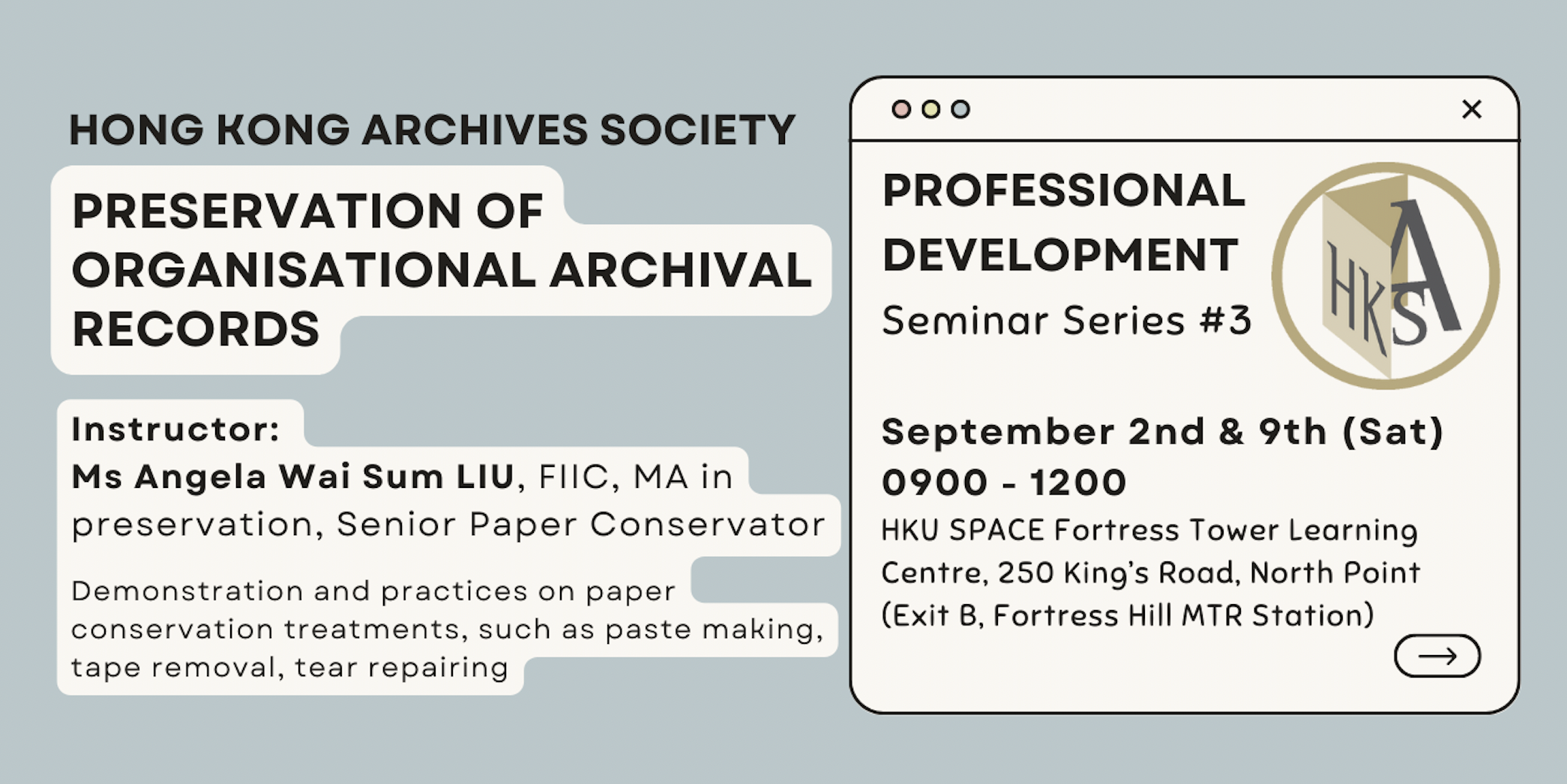 Following the first Seminar "Overview on Archival Management" in April, and the second Seminar conducted in July entitled "Developing a records appraisal strategy for your work place", HKAS is launching the 3rd seminar in September:

Preservation of Organisational Archival Records
The workshop aims at enriching the participants' knowledge on preservation and conservation of archival records and empowering their preservation skills in order to cope with daily operational needs in accordance with the best practices
Course modules:
(2 x 3-hour sessions)
Session 1: How to preserve the archives (Passive measures)
Environmental control in storage and its requirements, e.g. control of lighting, RH level, temperature
Proper handling and storage of archives
Preventive measures of Pest infestation
Emergency salvage of archives
Case studies
Session 2: How to conserve and protect archives (Active measures)
Digitisation of archives
Demonstration and practices on paper conservation treatments, such as, paste making, tape removal, tear repairing
Case studies
Instructor:
Angela Wai Sum LIU, FIIC, MA in preservation, Senior Paper conservator

MS Liu is presently involving in preservation and conservation of documentary heritage, including environmental and pest control of repositories; practicing preventive measures; implementing conservation treatments and digitisation, as well as establishing disaster recovery and emergency plans for different natures of archives etc.

She possesses over twenty-seven years of work experience in the Library, Archives and Museum sectors and have been worked in the capacity of fellows/interns at renowned institutions over the world, such as the USA, UK, Sweden and the mainland China. She is currently the Fellow of the International Institute for Conservation of Historic and Artistic Works (IIC).




Dates and times: 9.00 am – 12.00 noon, 2 and 9 September


Language: Cantonese with handouts in English


Fee:
$640 for members; $800 for non-members (non-members can opt to join the Society when registering. See
membership benefits
here).
Fees cover ---
handouts for the participants
certificates of attendance if required
mandatory hand tools and materials for the second session (1. Mini iron (optional: HK$230); 2. water infill pen; 3. Spatula; 4. Forceps; 5. Paint brush 1 set; 6. 薄美濃紙 1pc)



Deadline for registration:
12 pm on August 21st, 2023 Monday



Upon completion, participants will be able to:
Provide a suitable environment and fabricate protective enclosures to store their archival records; and
Adopt different measures (active and passive methods) to enhance life span of the archival records; and
Exercise proper procedures to salvage archives under threat while disaster comes.
Who should attend:
Those who are currently working in the associated sectors with practical operational needs or any interested members from the public. Those who have basic knowledge on archives management or possess relevant experience in the related sectors may gain more as you can practise and apply what is learnt.
TO APPLY, PLEASE FILL IN THIS ONLINE REGISTRATION FORM:
https://forms.gle/yXmAFqi2XfZhjkfW8


For any questions, please email pd@archives.org.hk

Please note:
Participants must attend the first session in order to attend the second
Fees are non-refundable unless the Society cancels the seminar due to 1) insufficient numbers of participants; or 2) unavailability of presenter or venue due to unforeseen circumstances beyond the Society's control
Registration can be transferred to members of the same institution with prior notice to the Society (pd@archives.org.hk)
Certificates of attendance will only be provided to participants who attend all the sessions