2019 / 05 / 28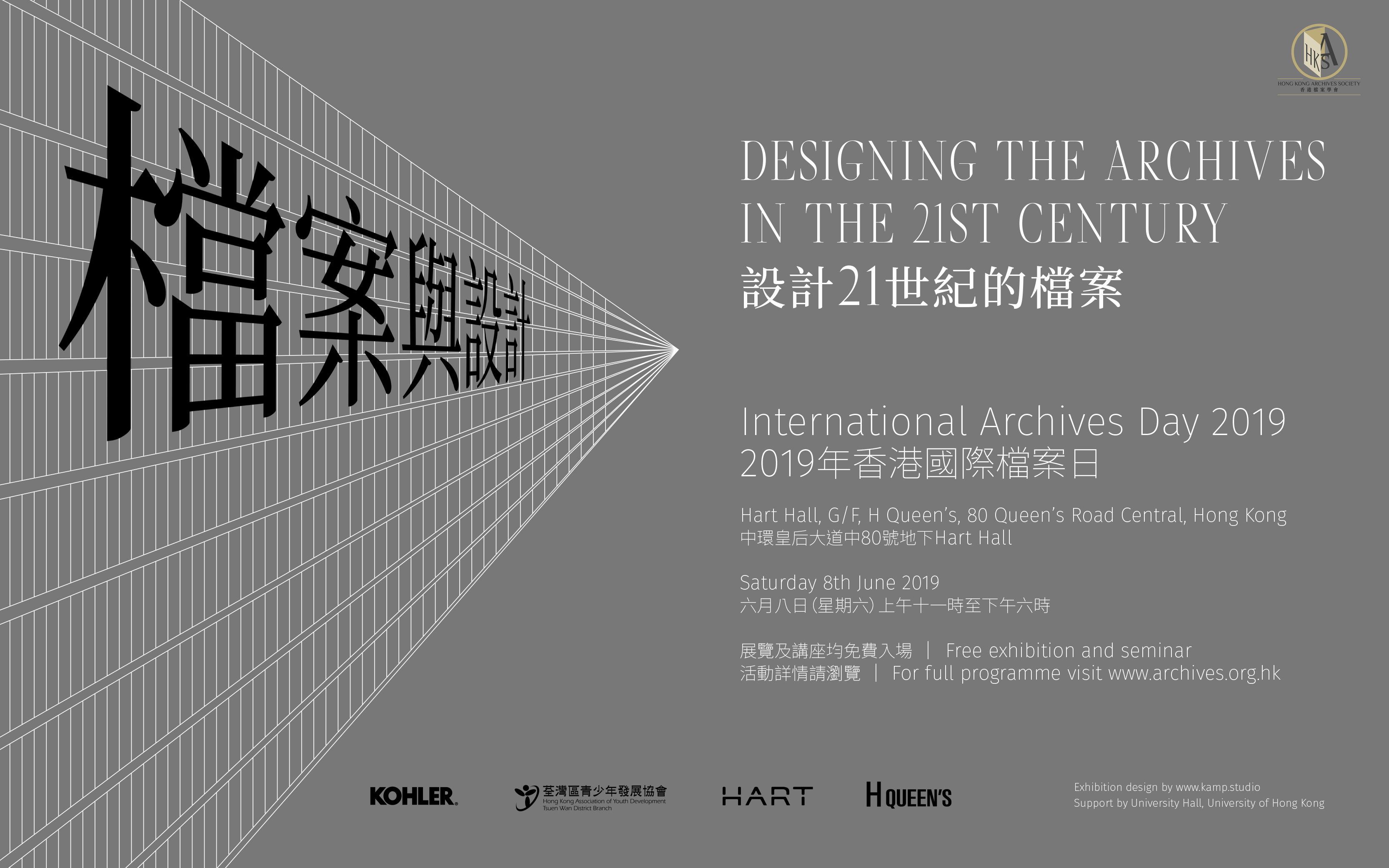 DESIGNING THE ARCHIVES IN THE 21st CENTURY: INTERNATIONAL ARCHIVES DAY 2019
Date: Saturday 8th June 2019
Time: 11am - 6pm
Venue: HART HALL, G/F, H Queen's, 80 Queen's Road Central, Hong Kong
The Hong Kong Archives Society will be holding our annual event celebrating International Archives Day on Saturday 8th June.
This year the global theme of International Archives Day is 'Designing the Archives in the 21st Century'. Through the idea of putting people at the centre of what we do, the celebration is reminding us of how to adopt a human-centred design approach to deliver benefits to our stakeholders.
We are proud to be holding this year's event in an amazing, centrally located venue Hart Hall, 80 Queen's Road Central, Hong Kong. The event will open the door to public from 11:00 am to 18:00 pm.
Seminar:
Talk 1 (12:30 - 13:15): The Value of Corporate Archives 企業檔案的價值 by Mr. Michael Ling (English)
Talk 2 (13:15 - 14:00): Archives x Design: 5 Perspectives by Mr. Sjoerd Hoekstra (English)
Talk 3 (14:00 - 14:45): 寶筏東蓮:東蓮覺苑檔案部的成立及使命 Magnificent Vessel of Tung Lin: The Establishment and Mission of Tung Lin Kok Yuen Archives 呂素君女士 主講 (廣東話)
Talk 4 (15:00 - 15:45): 時裝資料館: 透過體驗式學習培育設計人才 Fashion Archive: Empowering the Future Design Talents Through Experiential-participatory Action Approach 林綺妮女士 主講 (廣東話)
Talk 5 (15:45 - 16:30): 從使用者角度看考古、藝術與檔案的聯繫 Connecting Archaeology, Art and Archives: An User Perspective 黃慧怡博士 主講 (廣東話)
Talk 6 (16:30 - 17:15): 挑戰與轉變:新時代檔案館的協作和創新 Challenges and Transformation: Collaboration and Innovation of Archives in the New Era 劉善君女士 主講 (廣東話)
The full list of particpants in IAD 2019:
Asia Art Archive
CLP Holdings Limited
Chinese University of Hong Kong University Archives
Department of Anthropology, The Chinese University of Hong Kong
Design For Culture Limited
Government Records Service
Fashion Archive, Hong Kong Design Institute
Hong Kong Heritage Project
HSBC Archives
M+
Ricci Hall Archives Conservation and Acquisition Project
St. John's College Archives
Swire HK Archive Service
Tung Lin Kok Yuen
University of Hong Kong University Archives